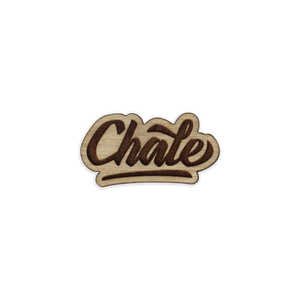 •When you need a little extra emphasis and the word "no" just isn't enough, you say "Chale" or "Chale Bro" or "Chale ese" or "Chale... insert your own word here ;-)" However you choose to use this word, use it with smidge of attitude and a lot of pride!

•  2.25" x 1.25"
•  Strong ferrite disc magnet
•  Laser cut and etched wood
•  Made in New Mexico!
IMPORTANT SIZING INFO
WOMEN
Women's t-shirts tend to run small. Please order one or two sizes larger than your normal size.