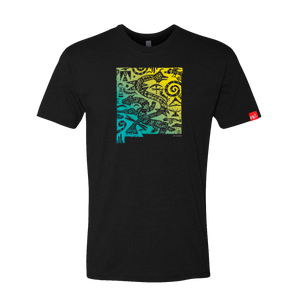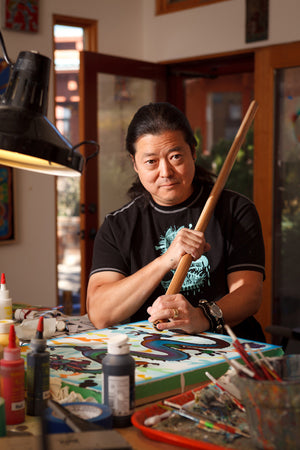 FS2 Supply Co. Artist Series
Joel Nakamura is an image maker and fine artist who makes Santa Fe his home.
Joel has lived in New Mexico since 1996 and has been a friend of ours for over twenty years. In the artwork he created for FS2 Supply Co. titled Collective Echoes, Joel Nakamura draws upon similarities in mythology and symbols between his Japanese ancestors and Native American peoples. Within this piece of art you will find thunderbirds, spirals, horny toads morphing into dragons, subtle references to the Zia symbol, serpents, rain clouds as well as native people. These similarities in symbols serve as a reminder of how we are all connected through culture.
IMPORTANT SIZING INFO
WOMEN
Women's t-shirts tend to run small. Please order one or two sizes larger than your normal size.