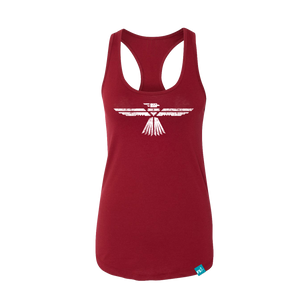 In many cultures, the Thunderbird is considered to be a greater-than-natural being of power and strength. We see and feel this power when the thick billowing clouds fill New Mexico's skies. It is said that the beating of its wings causes thunder and stirs the wind. If you have ever been caught in a fierce thunderstorm in New Mexico and witnessed the lightning strikes illuminate the sky, you have felt the power of the Thunderbird.
• 60% polyester, 40% combed ringspun cotton
• 3.9 oz
• Fabric laundered
• Side seam construction
• Curved hem
IMPORTANT SIZING INFO
WOMEN
Women's t-shirts tend to run small. Please order one or two sizes larger than your normal size.