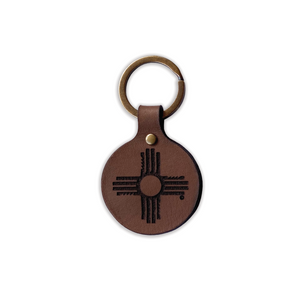 The Zia symbol is a powerful icon that represents New Mexico and its people. Inspired by a design found on a 19th century water jar from Zia Pueblo, the Zia Symbol represents the Four directions: North, South, East and West; the Four seasons: Spring, Summer, Fall and Winter; the Four times of day: sunrise, noon, evening and night; and, the Four stages of life: childhood, youth, adulthood and old age. The four sets of rays are bound together with a circle representing life without beginning and without end. Underscoring the symbol's design is the Zia people's belief that humanity has four sacred obligations: to develop a strong body, a clear mind, a pure spirit and a devotion to the welfare of mankind.
This durable keychain is made from top grain leather with solid iron hardware in a vintage finish. The leather will soften and age beautifully, developing a rich patina over time. Each piece is unique and will vary slightly in grain, color and markings.
•  1.625" x 2.875"
•  100% vegetable tanned leather
•  Laser engraved
•  Hand-stitched with hand burnished edges
•  Solid iron keyring with antique brass finish
•  Made in New Mexico!
IMPORTANT SIZING INFO
WOMEN
Women's t-shirts tend to run small. Please order one or two sizes larger than your normal size.