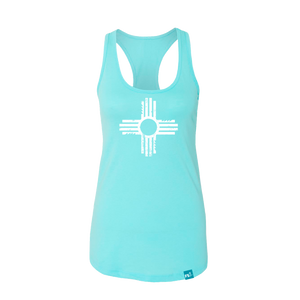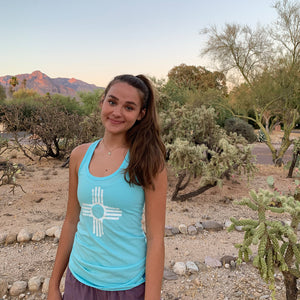 Inspired by a design found on a 19th century water jar from Zia Pueblo, the Zia Symbol represents the Four directions: North, South, East and West; the Four seasons: Spring, Summer, Fall and Winter; the Four times of day: sunrise, noon, evening and night; and, the Four stages of life: childhood, youth, adulthood and old age. The four sets of rays are bound together with a circle representing life without beginning and without end. Underscoring the symbol's design is the Zia people's belief that humanity has four sacred obligations: to develop a strong body, a clear mind, a pure spirit and a devotion to the welfare of mankind. The Zia Symbol should not be taken for granted: its sacred meaning is carried by all who wear it!
• 60% polyester, 40% combed ringspun cotton
• 3.9 oz
• Fabric laundered
• Side seam construction
• Curved hem
IMPORTANT SIZING INFO
WOMEN
Women's t-shirts tend to run small. Please order one or two sizes larger than your normal size.