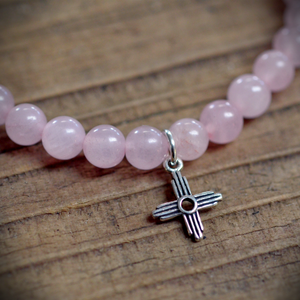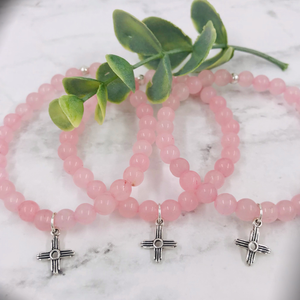 Rose quartz is the stone of universal love. Pair that with the love of New Mexico and the Zia Rose Quartz bracelet is born. This stone restores trust and harmony in relationships while encouraging unconditional love. In the spirit of connections, FS2 Supply Co. has developed a strong relationship with Angelica and Megan of Simply Meraki. Like FS2, Angelica and Megan have a strong love of New Mexico and they strive to create jewelry pieces that are creative and have meaning. Each piece they create is with good intent and positive vibrations.
•    Measures 2.375" in diameter
•    Stretch band
•    Stones may vary in color

IMPORTANT SIZING INFO
WOMEN
Women's t-shirts tend to run small. Please order one or two sizes larger than your normal size.